At RuralEdge, we do not want to see any households evicted from our properties. However, we also know that issues occur, that people come from all walks of life, and that some might need extra support to give them what they need to be housed stably. In July 2022, we received funding from the State of Vermont Department of Housing & Community Development to offer an Eviction Prevention program for our residents, providing staff support and service coordination to ensure that all residents remain in our housing as long as they would like.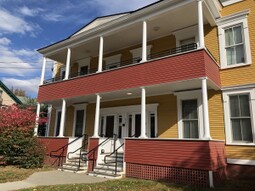 The Process
When a lease violation is sent, our Resident Support Specialist receives a referral. They then speak with the Property Manager to learn more about the issue and how they can be of assistance. They then speak with the resident to hear their side of the story and discuss ways that we can help make sure the issue does not jeopardize their ability to remain housed with us. After the initial meeting, the Resident Support Specialist reconnects with the Property Manager to give updates and begins the work of coordinating any necessary services or community resources needed to keep the resident housed. If the issue is non-payment, the Resident Support Specialist makes a referral to our Homeownership Center for financial counseling. Lastly, they maintain regular contact with residents to ensure progress is being made towards their goal of housing stability.
In 90 days, if there are no further escalations and the issue has been corrected, we celebrate it as an eviction prevented!
The Impact
By preventing evictions, the benefits are both financial and social. RuralEdge anticipates lower legal expenses, decreased unit turnover expenses and increased staff capacity. However, just as important is an increased safety at properties, increased morale in the community, better resident-landlord relationships, and life-changing health and stability that comes with being housed stably and securely.
At RuralEdge, we pride ourselves as being more than just a landlord. By providing this service to do everything we can for our residents, we are truly strengthening Northeast Kingdom communities, one home at a time!


Residents in need of assistance can contact our Resident Support Specialist to be connected with any available community resources