RuralEdge Distributes First Re-Housing Recovery Funds to Local Landlord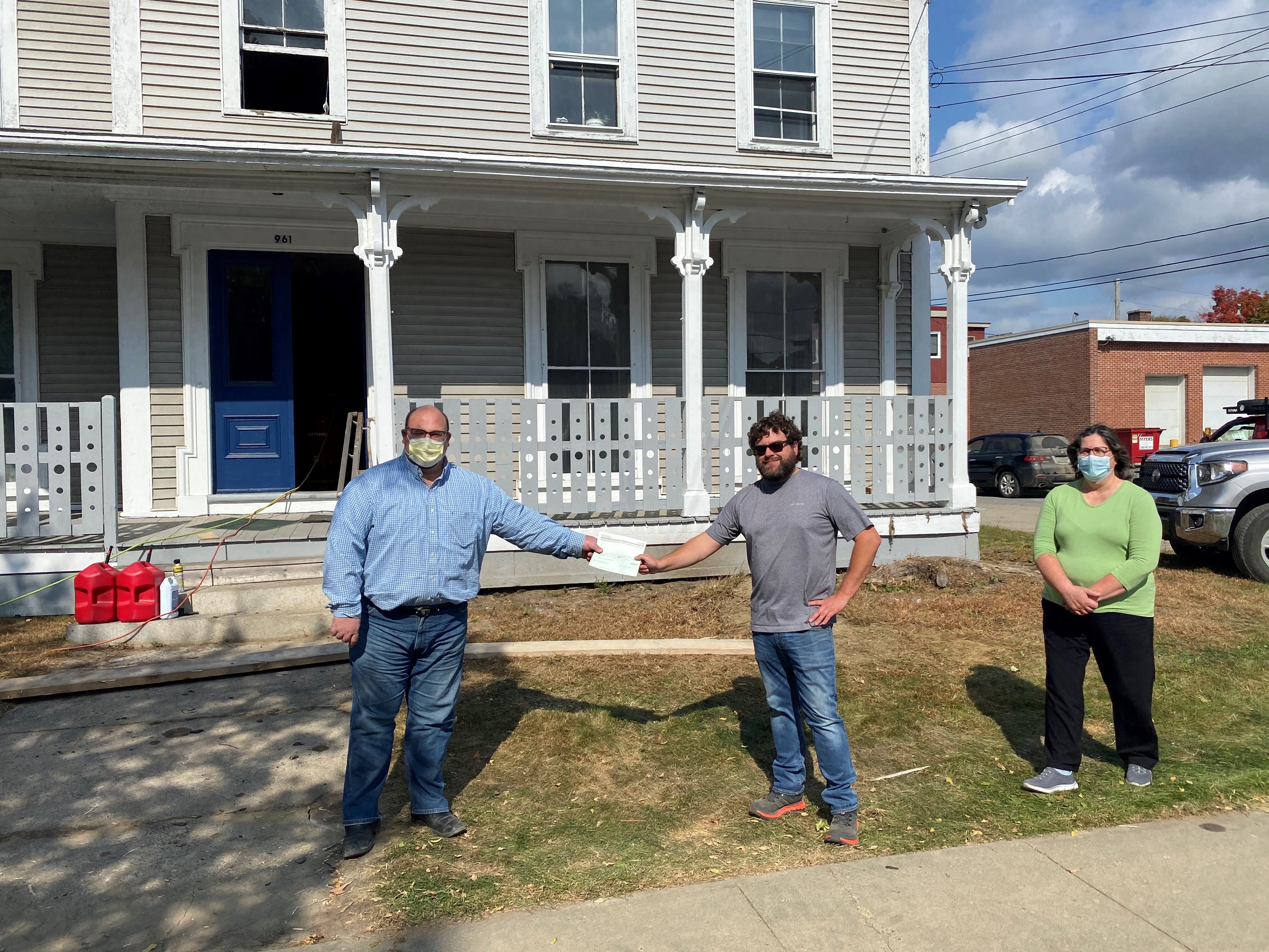 LYNDONVILLE—The need for quality and affordable housing in the Northeast Kingdom received some assistance this week as landlord Tyler Hebert received the first Re-Housing Recovery Program funds in the Northeast Kingdom from RuralEdge. This program came about as part of the COVID relief funds from the State of Vermont set aside for this purpose. The concept is simple: landlords receive up to $30,000 for each currently vacant unit to address code violations and rehabilitation needed to bring these units back into the housing market by the end of 2020, and agree to work with Coordinated Entry to house the homeless for five years. The timeline makes for a challenging task, but Hebert saw it as an opportunity too good to pass up.
The need for a program like this comes from the fact that it is often too costly for private landlords to rehabilitate older apartments. For his building on Center Street in Lyndonville, Hebert would need to invest around $100,000 to provide just three units of quality housing to tenants. Through this program, he can now do this work for just over ten percent of that cost. "By partnering with RuralEdge to utilize the grant money available through the Re-Housing Recovery Program, we are able to provide apartments that meet the Vermont Rental Housing Code and work with local agencies to assist those at risk of homelessness," Hebert said. Joy Ely of Northeast Kingdom Community Action is grateful for this program as an opportunity to assist those in the community at risk of experiencing homelessness, citing "The COVID -19 pandemic has shed a light on the number of our neighbors across the Northeast Kingdom who are struggling with housing insecurity. Being a part of a strong community, identifying barriers and collaborating with partners like RuralEdge, and now new landlords, strengthens our efforts in supporting everyone in the NEK to grow, prosper and thrive."
This program provides a great opportunity for partnership between private landlords, local agencies and RuralEdge's Homeownership Center, which provides home purchase counseling, a home repair program which offers grants and low-interest loans for necessary home repairs to low-income households, and also serves as the team responsible for the application and disbursement of the Re-Housing Recovery Program funds. When asked about these partnerships, RuralEdge Executive Director Patrick Shattuck said "RuralEdge works to strengthen Northeast Kingdom communities, one home at a time. We are most effective when we have dedicated partners working with us to achieve this mission. I am excited that Re-Housing Recovery provides us with an opportunity to enlist new partners in private landlords like Tyler Hebert while enhancing our longtime community partnership with NEKCA as we seek to end homelessness and ensure quality, permanent affordable housing for all."
For more information on this program or to fill out an application, visit ruraledge.org or call (802) 473-3916.