New Avenue Reconstruction Brings New Opportunities to St. Johnsbury Community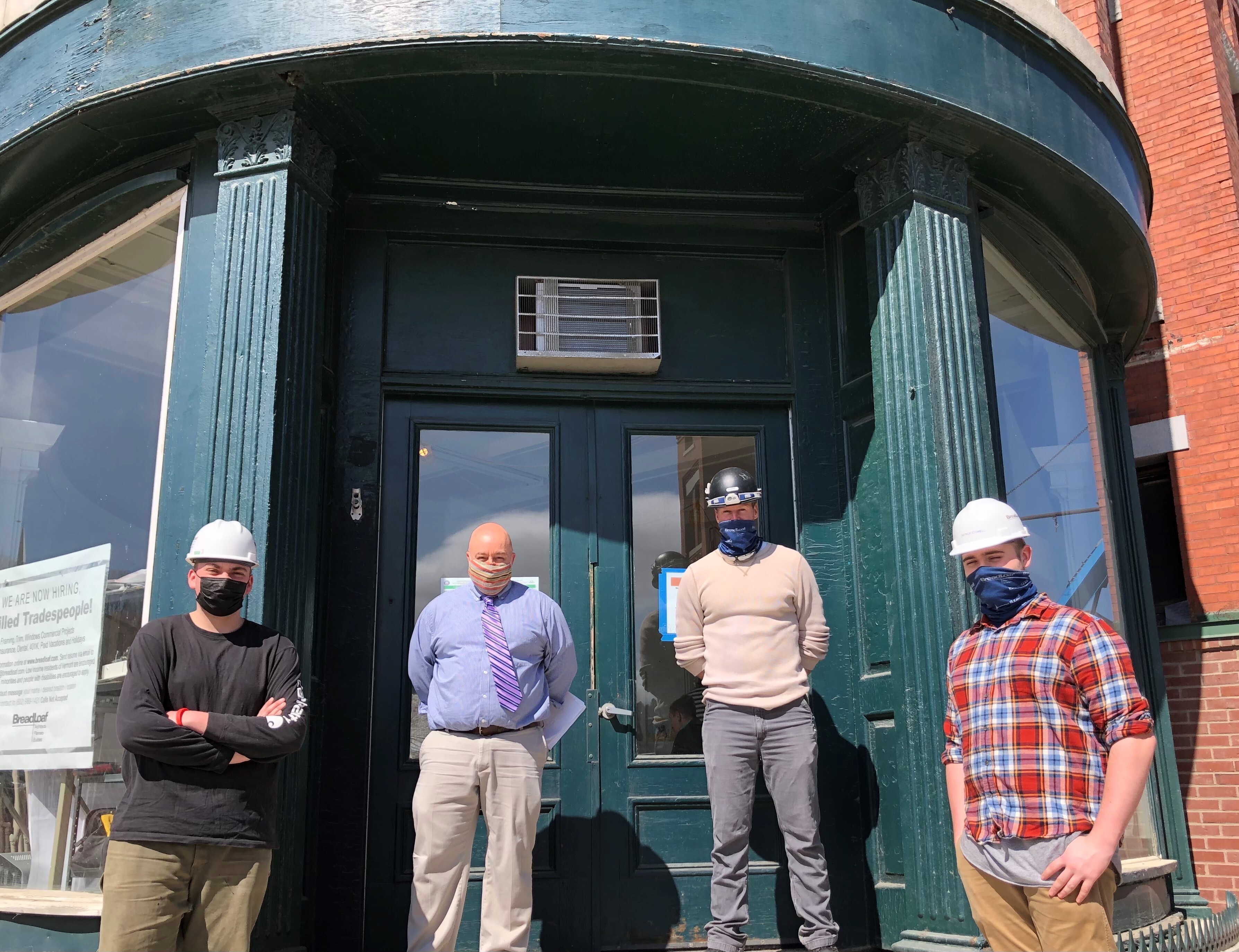 New Avenue Reconstruction Brings New Opportunities to St. Johnsbury Community
SAINT JOHNSBURY—Nearly one year into the substantial rehabilitation work on the former Depot Square Apartments, now known as New Avenue, the project has brought substantial changes to the building and to the community it will once again serve.
After years of neglect, the building was in desperate need of extensive renovations. RuralEdge and Evernorth, working with Bread Loaf Corporation, is mid-way through a gut rehabilitation which includes a reconfiguration of the floorplans, creating livable apartments. The upper floors will feature 40 high quality, affordable apartments, while the ground floor will be dedicated to prime commercial space, bringing new life and vitality to the downtown while preserving a centerpiece of the St. Johnsbury landscape. Already, the installation of new windows for the apartments and storefronts, along with the cleaning and restoration of the brickwork last fall, has provided an attractive and exciting upgrade to the landmark building. A group of local investors, spearheaded by Kingdom Development Corporation, is renovating the first floor commercial space. That work includes returning the storefronts to their original configuration, and exposing the historic cast iron columns.
The impact of the New Avenue rehabilitation goes far beyond what the eye can see, including bringing new jobs, new opportunities and new energy to downtown St. Johnsbury. Bread Loaf Corporation, the general contractor, hired 56 local people to work on the project, all while taking proper safety precautions during COVID-19. Bread Loaf also partnered with St. Johnsbury Academy to create an internship opportunity for two students. As part of the internship, the students receive the same professional training as all new Bread Loaf employees, as well as a standardized weekly training with an experienced foreman. Aaron Carr, Work-Based Learning Coordinator at St. Johnsbury Academy, said that "Interning with Bread Loaf has been a great experience for our two students. It's given them an opportunity to put the skills they've learned in their Construction Technology Class at St. Johnsbury Academy to use and at the same time, the opportunity to learn new skills."
In addition to its internship program for students, Bread Loaf partnered with RuralEdge to provide its employees with Homebuyer Education workshops and programs through RuralEdge's Homeownership Center.
Bread Loaf strives to provide quality work with a diverse, talented workforce. They recently produced a film that highlights their female construction employees working at New Aveunue in partnership with Vermont Works for Women. The owner & design team is also well represented by women, including the female senior developer, two project managers, and the project architect, Taryn Barrett, who is also a St. Johnsbury native.
Ryan Ahern, Bread Loaf Director of Safety and Training, said that their community efforts are seen as a critical part of Bread Loaf's mission. "You can see the excitement of the local business owners as they see this beaten down building brought back to life. You can also see the local work force we hired taking pride when I hear of them bringing their family to see what they are working on during off hours" said Ahern. "We are not just putting a brick, wood and concrete structure back together; it's bigger than that. We are building the skills for future builders of America, we are building housing for those in need."
RuralEdge and Evernorth are proud to work with contractors that strengthen the communities in which they work. Construction is on schedule and is slated to be complete in late September 2021.
For information on renting an apartment at New Avenue, contact Kate Bertolini of Summit Properties at (802) 748-1772 or stj@summitpmg.com.