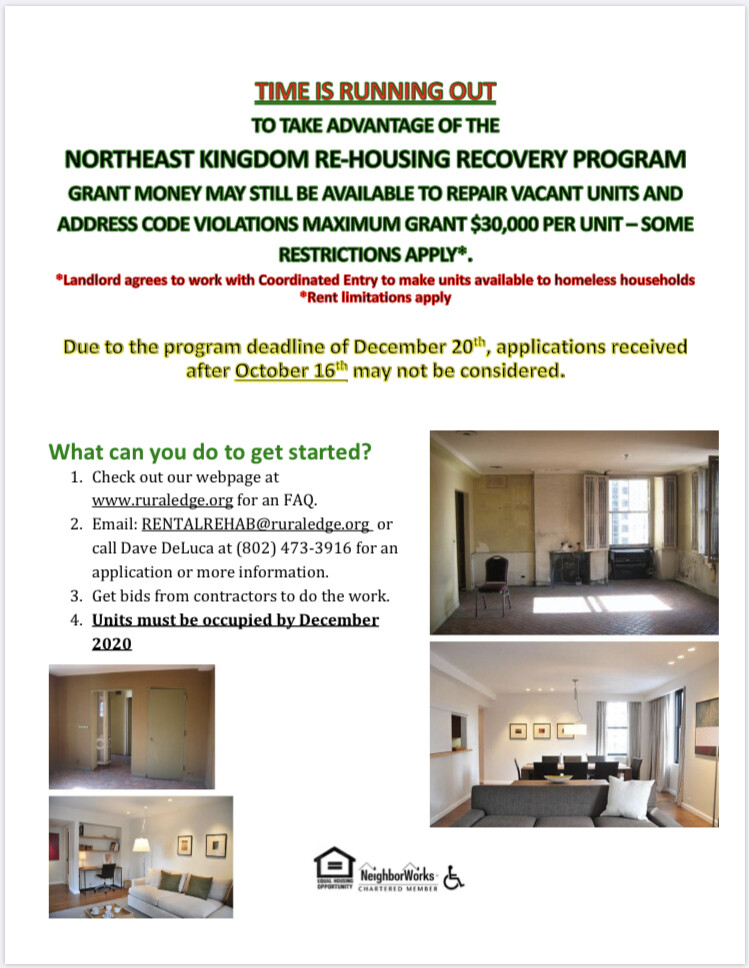 Frequently Asked Questions

Q: What is considered an eligible unit?
A: An eligible unit would be an existing rental unit that is currently vacant. It could be an apartment, single-family home, duplex, mobile home, or accessory apartment. The money cannot be used to "create" a new unit of housing. Occupied units may be considered in there are adverse property conditions that may threaten an occupant to lose their Section 8 Housing Choice Voucher.
Q: What type of rehab work can be done with these funds?
A: There must be existing code violations or health and safety repairs that need to be addressed, for example electrical/plumbing work, fire safety improvements, leaking roof, new heating system, etc. However, there may be flexibility to make additional upgrades if any funds remain after the necessary repairs are made.
Q: Who determines the scope of work and selects the contractor?
A: The property owner should apply with the basic idea of the work that needs to be completed to bring the unit in compliance with the rental housing code. RuralEdge with doing a site visit to verify that the scope of work meets program guidelines, as well as any other items that may need to be addressed. The property owner must select the contractor.
Q: What is the maximum grant amount?
A: The maximum grant amount is up to $30,000 per unit. Property owners can apply for up to 15 eligible units.
Q: How will the units be selected for this program?
A: Units will be selected on a first-come-first-served basis, as long as the following requirements are met:
1. The property is not delinquent on any property taxes, mortgage payments, or has any other adverse lien(s) and is not in foreclosure.
2. The property owner must contribute a 10% match per unit.
3. A written agreement that the property owner will review applicants from the Continum of Care when the unit is ready to be leased up.
4. A written agreement that the property owner will agree to lease their rehabbed units at or below the HUD Fair Market rents for at least five years.
5. Units are vacant and eligible (see question 1)
6. The project is shovel ready and can reasonably be completed by 12/20/20. Verification and or a contract documenting that from your contractor would be helpful.
Q: How much do I need to contribute? How will that be processed?
A: Property owners are required to match at least 10% of the award with their own funds. RuralEdge asks that the property owner pay their funds first to the contractor (i.e. initial deposit) and provide RuralEdge with a receipt.
Q: When do I get paid? Do I need to submit receipts?
A: After your initial 10% match contribution, you will be paid in progress payments. You can receive up to 25% at the start of the project, another 25% when the project is halfway completed, and 40% when construction is done. The final 10% will be paid when the unit is leased up.
Q: What if there are multiple owners of the property?
A: Please include contact information for all the property owners on the application. They all must agree to and sign a Housing Subsidy Covenant, which will be recorded in the land records.
Q: What is the ongoing obligation/compliance for accepting this money?
A: All owners must agree to sign a Housing Subsidy Covenant, which will require compliance with keeping rents at or below HUD fair market rents. Each year, a landlord certificate must be sent to the Vermont Department of Housing and Community Development.
Q: What are the HUD Fair Market Rents in Caledonia, Essex and Orleans Counties?
A: They usually change once a year, but the current rental limits are:
| | | | | | |
| --- | --- | --- | --- | --- | --- |
| Caledonia County | Orleans County | Essex County | | | |
| Studio/Efficiency – | $ 724.00 | Studio/Efficiency – | $ 595.00 | Studio/Efficiency – | $ 580.00 |
| 1 Bedroom – | $ 762.00 | 1 Bedroom – | $ 686.00 | 1 Bedroom – | $ 603.00 |
| 2 Bedroom – | $ 876.00 | 2 Bedroom – | $ 781.00 | 2 Bedroom – | $ 762.00 |
| 3 Bedroom – | $ 1,092.00 | 3 Bedroom – | $ 1,040.00 | 3 Bedroom – | $ 983.00 |
| 4 Bedroom – | $ 1,288.00 | 4 Bedroom – | $ 1,241.00 | 4 Bedroom – | $ 1,080.00 |
HUD Fair Market Rents are posted annually and can be found at: https://www.huduser.gov/portal/datasets/fmr.html
Q: Why is the completion date 12/20/2020?
A: It's a provision of the CARES Act funding that Vermont got from the Federal Government in response to the COVID-19 Pandemic. Unfortunately, RuralEdge has no control over this deadline and we understand the challenges associated with it.
Q: What happens if I don't meet those deadlines?
A: The units being rehabilitated are not occupied by December 20, 2020, you will forfeit the remaining funds and may incur a penalty.
Q: What is the Continuum of Care/Coordinated Entry Program?
A: This is a statewide effort to help end homelessness in Vermont. Each community has a lead agency (Northeast Kingdom Community Action in our area – http://www.nekcavt.org) where there is a coordinated entry system to connect homeless households with housing and services. By enrolling your unit in this program, it is required that you review at least three referrals from the Continuum of Care to fill these rehabbed units. However, you can maintain your usual qualifications in screening these applicants.
Q: Do I still get to select my own tenants?
A: Yes, you are allowed to maintain your standard qualifying factors in selecting tenants. However, RuralEdge asks that you accept the Vermont Common Rental Application, as well as review at least three referrals of homeless families that are connected to the services offered by the Continuum of Care to help connect them to these vacant units.
To request an application - contact David Deluca @ 802-473-3916 or email: davidd@ruraledge.org.