HomeBuyer Education Workshop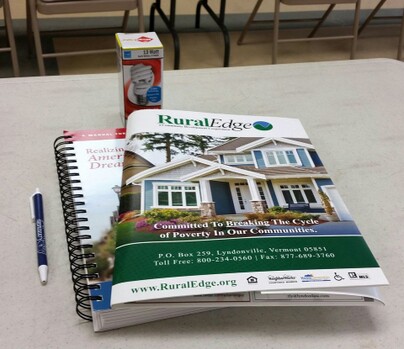 Purchasing your first home can be overwhelming. We are here to help you navigate through this exciting, but complicated, process. Whether you have already found the home you want to buy, or are just beginning the process of buying a home, our HomeBuyer Education workshop offers much-needed and helpful tips to make this process as simple and stress-free as possible.


Our Homebuyer Education workshop covers the following topics:

Talking with a lender
Negotiating the purchase
Understanding purchase and sales agreements
What you can afford
Home buying process
Talking to a Realtor
Types of Mortgages
The mortgage process
Closing costs
Homeowners insurance
Home inspections
Post purchase advice

We offer two ways of taking the Homebuyer Education Course: Online through eHome America and in-person at various Northeast Kingdom locations!
Register for the Online Homebuyer Education Workshop

Register for the In-Person Homebuyer Education Workshop

Homebuyer Education Workshop FAQ

Can you help me if I've owned a home in the past?
Yes! We provide assistance to everyone who wishes to purchase a home or wants to be educated about the purchase process.
How often are your classes?
We offer them once a month on a Saturday except in December. In June and July, we offer a split class on Tuesday and Thursday evenings. See our calendar for workshop dates.
Are there any income limits to your services?
No, The HomeBuyer Education workshop is open to everyone, regardless of income.
What is the cost of the workshop?
The class fee is $85 if you register at least a week prior to class and $100 if you register within the week. We recommend that you sign up for the class ahead of time to make sure you have a spot since each class is capped at 15 families or approximately 30 people.
Do I make enough money to qualify for a mortgage?
Our HomeBuyer Education workshop will cover mortgage qualifications and address barriers to getting a mortgage. For those with low income, it is possible to buy a home. However, some low-income families may need assistance programs in order to purchase a home.
If I have a lot of debt, will this affect how much I can borrow?
Yes. In fact, one of the biggest obstacles facing many homebuyers is too much debt. Your monthly debt is taken into consideration when a lender determines the mortgage amount for which you qualify. This is covered in the workshop, but we can assist you further if needed.
Can you fix my credit for me?
No, only you can improve your credit. We discuss credit and buying habits in the HomeBuyer Education workshop, and we are here to assist you with any questions you may have regarding your credit.


Homebuyer Education Workshop Sponsors 2021