Our Mission
RuralEdge strengthens Northeast Kingdom communities one home at a time. RuralEdge envisions Northeast Kingdom communities where every individual can live in stable, affordable housing with access to the services they need to live a healthy and prosperous life.
Our History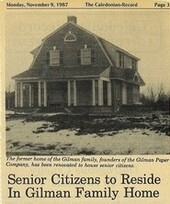 Since its first affordable housing project in 1986, RuralEdge has created sustainable housing throughout the Northeast Kingdom for families, seniors, those with disabilities, and all who seek a place to call home. From the new construction of multi-family properties or senior housing to acquisition and rehabilitation of needed affordable family housing, RuralEdge has successfully added over 650 housing units in our three Northeast Kingdom counties.
In 1998, RuralEdge became a Chartered Member of the NeighborWorks America Network, bringing new resources, knowledge, and access to the residents across the Northeast Kingdom. Our NeighborWorks HomeOwnership Center continues to provide nationally certified pre-purchase education and counseling for homebuyers along with financial education services. A Home Repair Program serves low and moderate-income borrowers in making home repairs for health, safety, and accessibility issues.
RuralEdge has expanded our mission and services offered by participating in the nationally recognized SASH (Supports And Services at Home) program and is a NeighborWorks Community Building and Engagement participant. These programs assist individuals and resident groups in acquiring support for special needs, crisis intervention, relocations, and advocacy issues—helping ensure that beyond the brick and mortar, our residents are equipped to sustain their housing choice.